India detected 115,736 new cases of the novel coronavirus on Tuesday, the highest so far. Of the total, Maharashtra reported 55,469 cases while Chhattisgarh scaled a new peak of 9,921 cases. Karnataka, Uttar Pradesh and Delhi reported more than 5,000 cases each.
India's caseload now stands at 1,28,01,785, of which 8,43,473 are active cases and 1,17,92,135 people have recovered from the virus.
At least 630 deaths were reported on Tuesday, taking the country's toll to 1,66,177. On Tuesday, almost half the deaths (297) were reported in Maharashtra. Punjab, Chhattisgarh, Uttar Pradesh and Karnataka were the other states which reported large number of deaths.
On Tuesday, India recorded the highest number of vaccinations in a single day so far: 43,00,966. The total vaccination so far stands at 8,70,77,474.
At a Covid-19 vaccination centre in New Delhi on Tuesday. (Express Photo: Praveen Khanna)
Here are the top Covid-19 related developments of the day:
Maharashtra on Wednesday said that the state was running short of Covid vaccines, especially in urban centres, and urged the Centre to send in additional stocks. The state has 13 lakh doses of Covaxin and Covishield in stock, which according to its estimates will be exhausted in three days.
The state has been vaccinating between 3.5 lakh to 4 lakh people daily, with more than 8.56 million having received the jab till Tuesday night. On Tuesday, 3.88 lakh people were vaccinated in the state.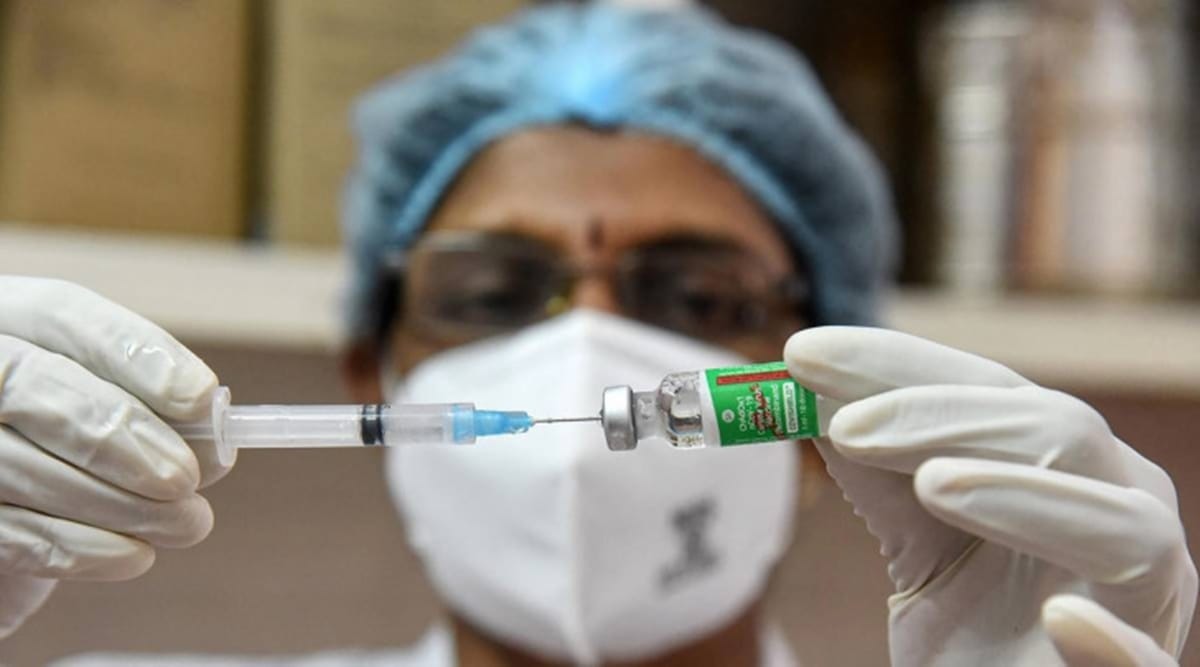 Over 8.56 million having received Covid jab in Maharashtra so far.
"We do not have enough vaccine doses at multiple centres. Health workers are now turning away many people. We cannot afford to slow down the pace of vaccination. We need to generate immunity in population and we are ready to vaccinate up to 5 lakh or even 6 lakh people a day," Maharashtra Health Minister Rajesh Tope said.
Maharashtra: As Covid-19 vaccine gets short in supply, several districts forced to shut vaccination from tomorrow. This includes Navi Mumbai, Satara, Panvel. Here is a release from Panvel corporation.Maharashtra has asked centre for stock @IndianExpress #vaccination #Maharashtra pic.twitter.com/0DKxvKqcNq

— Tabassum (@tabassum_b) April 7, 2021
Later in the day, Several districts in Maharashtra including Navi Mumbai, Satara and Panvel will shut their Covid-19 vaccination drive from tomorrow due to "shortage".
Union Health Minister Harsh Vardhan Wednesday hit out at the Maharashtra government hours after the latter said it was running short of Covid-19 vaccines and urged the central government to supply additional doses.
In a strongly-worded response, Vardhan said allegations of vaccine shortage are "utterly baseless". "This is nothing but an attempt to divert attention from Maharashtra government's repeated failures to control the spread of pandemic," he said.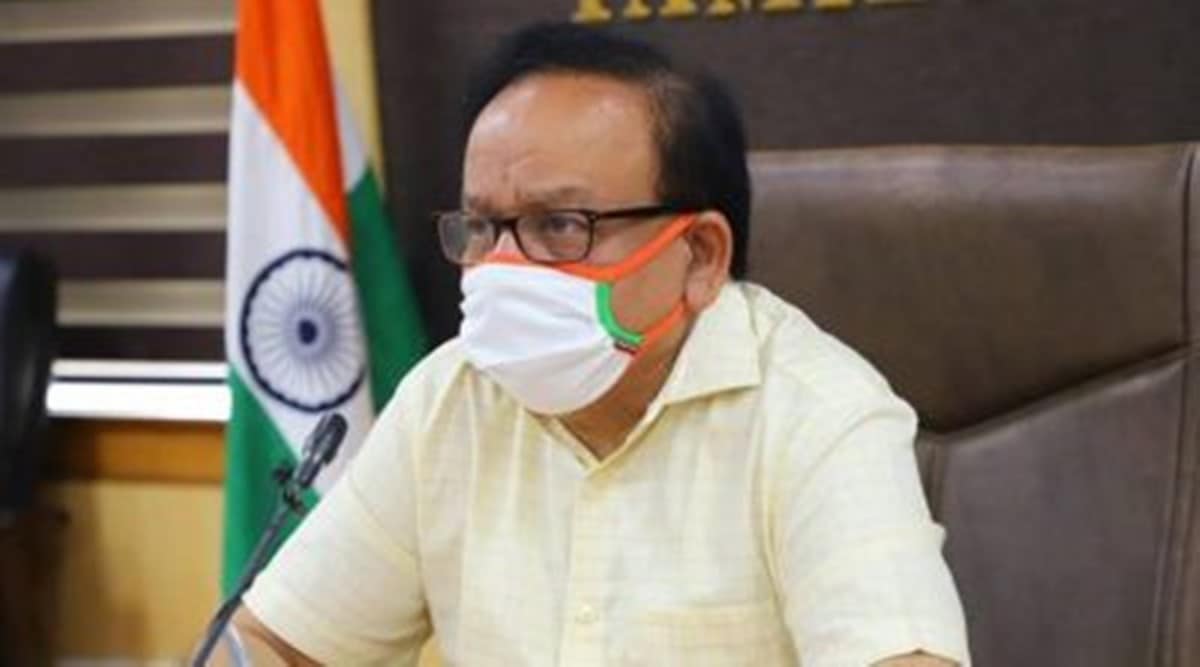 Union Minister Dr Harsh Vardhan. (Twitter/@drharshvardhan)
"The inability of Maharashtra government to act responsibly is beyond comprehension. To spread panic among the people is to compound the folly further. Vaccine supplies are being monitored on a real-time basis, and State governments are being apprised regularly about it," Vardhan added.
The Health Minister further said that the "lackadaisical attitude" of the state government has singularly bogged down the entire country's efforts to fight the virus. "Today, Maharashtra not only has the highest cases and deaths in the country but also has one of the highest test positivity rates in the world! Their testing is not up to the mark and their contact tracing leaves a lot to be desired," he said.
"It is shocking to see how the state Government is putting Maharashtrians in danger by letting people escape institutional quarantine mandate for the sake of their personal Vasuli," he continued. "Overall, as the state has lurched from one crisis to another, it seems as if the state leadership is happily sleeping at the wheels."
Focus on fighting Covid-19, says PM Modi on World Health Day
On the occasion of World Health Day, Prime Minister Narendra Modi Wednesday urged people to focus on fighting Covid-19 by taking all possible precautions. He also said it was a day to reaffirm our gratitude and appreciation to those who work to keep our planet healthy, and reiterate our commitment to supporting research and innovation in healthcare.
On #WorldHealthDay, let us keep the focus on fighting COVID-19 by taking all possible precautions including wearing a mask, regularly washing hands and following the other protocols.

At the same time, do take all possible steps to boost immunity and stay fit.

— Narendra Modi (@narendramodi) April 7, 2021
Delhi HC says wearing masks in vehicle compulsory, even when travelling alone
The Delhi High Court on Wednesday said wearing a mask or a face cover in a vehicle, even when travelling alone, was mandatory. Justice Prathiba M Singh ruled that a vehicle moving across the city constituted as a public place, and therefore, travellers in personal or officials vehicles, would have to wear masks to control the spread of Covid-19.
"A vehicle even if occupied by one person would constitute a public place and wearing a mask therein would be compulsory. The wearing of a mask or a face cover in a vehicle which may be occupied by either a single person or multiple persons is thus held to be compulsory," said the court.
Four petitions were filed in the court last year challenging the imposition of Rs 500 fine on those not wearing face masks while travelling alone in a private car.
The racecourse (RWITC), a favourite for joggers in Pune, wears a deserted look due to the pandemic on Tuesday. (Express Photo: Arul Horizon)
As Covid cases continue to remain high in the state, Punjab Chief Minister Captain Amarinder Singh on Wednesday ordered a total ban on political gatherings till April 30 and said that violators, including political leaders, will be booked under the DMA and Epidemics Act.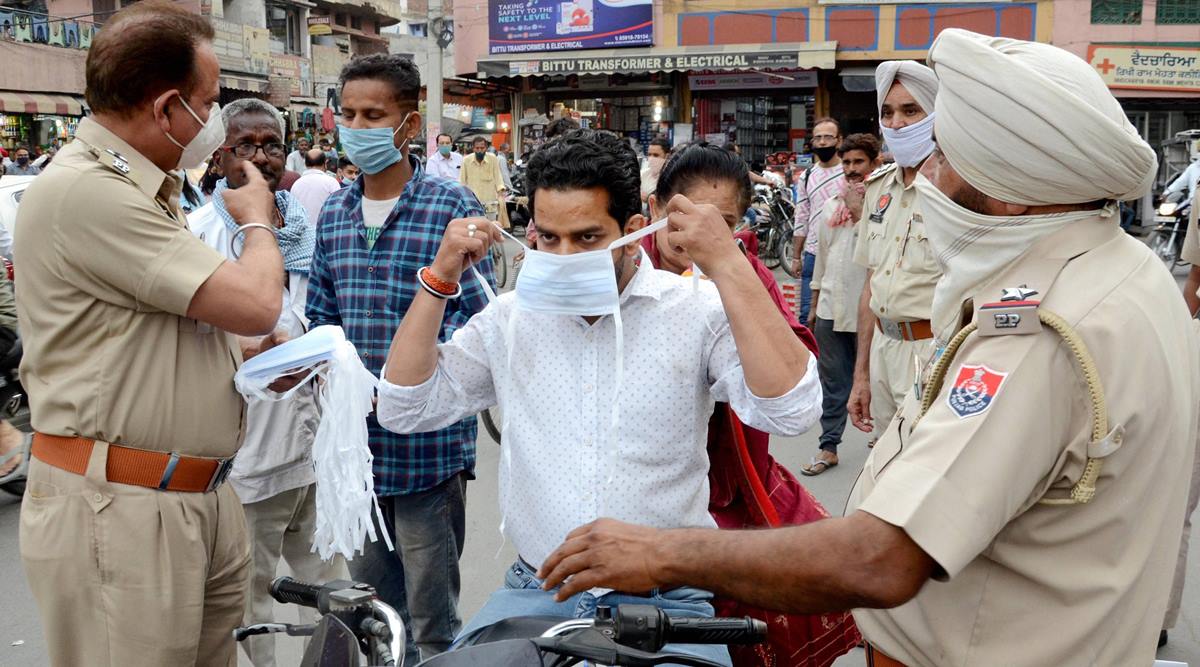 Police personnel distribute mask during an awareness campaign against the spread of the coronavirus, in Amritsar, Monday, April 5, 2021. (PTI)
The chief minister also announced extension of night curfew from 9 PM to 5 AM, which was earlier imposed in 12 districts, to the entire state and reduced the number of attendees at funerals/cremations/weddings to 50 people indoors and 100 for outdoor events. Wearing of masks has been made mandatory for all government employees while in office.
These restrictions, coupled with the ones imposed earlier, which include closure of schools and educational institutions, shall remain effective till April 30. However, there was some respite for shop owners in malls, as the Chief Minister allowed entry of 10 people per shop at any given time, as against the earlier order of not allowing more than 100 people in a mall at one time. This would mean that 200 people will be allowed in a mall with 20 shops at any given time.
With a spurt in new Covid-19 cases, Odisha Wednesday requested the Union Health Ministry to release more doses of the vaccine while adding that the state can only conduct vaccinations for another three days with the available stock.
Odisha on Wednesday reported 791 fresh Covid-19 cases, the highest count of 2021 so far, taking the total cases to 3,44,647. The death toll stands at 1,923.
Additional Chief Secretary (Health and Family Welfare), PK Mohapatra Wednesday wrote a letter to the Secretary of Union Ministry of Health and Family Welfare, requesting more doses of the vaccine for the state. "As of April 6, we have stock of 3, 47,180 doses of Covishield and 1,36,820 doses of Covaxin vaccine with peripheral Cold Chain Points. Presently, there is NIL stock of Covishield vaccine in all Regional & District vaccine stores in the state," the letter read.
Maintaining a record of visitors, extending "proactive help" to senior citizens, and "encouraging" residents to stay at home are among the "pre-emptive" measures that Resident Welfare Associations (RWAs) and facility managers of condominiums and gated colonies in Gurgaon will now be expected to adopt to help curb the spread of Covid-19. The city's deputy commissioner has issued an order to this effect and similar directives have also gone out for malls, market complexes, hotels and banquet halls.
In the order issued for RWAs and facility managers, Deputy Commissioner Yash Garg has directed that, apart from ensuring that masks are worn by residents, sanitising common areas "on a 2-hourly basis", promoting use of Aarogya Setu app and installing "Handwash facility at entrance", they must also maintain a record of visitors at the entry and exit gate and "encourage" residents to stay at home, to the extent possible.