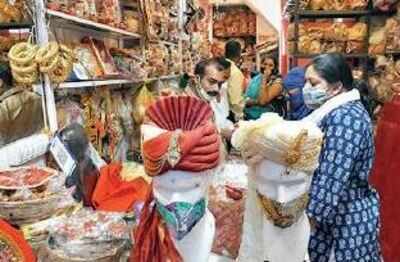 Wedding shopping at Lakherapura in Bhopal on Wednesday
BHOPAL: Most people in Bhopal would have expected that a year on from the coronavirus pandemic, weddings and the preparations associated with them would have become the norm again. However with the recent spurt of cases in the state capital, the situation has completely changed.
Bhopalis are rescheduling or cancelling programmes, sending messages of cancellation to guests, who had already been invited. Those who have scheduled weddings for April are now taking the hit.
OD Joseph, the president of Bhopal Malayalee Association, had invited around 700-800 people for the reception following his daughter's marriage scheduled on April 12. The reception was to take place at a luxury hotel in the city. But, following the guideline that a maximum of 50 persons can participate in a marriage ceremony, the reception has been cancelled.
"We had planned the marriage in January. Coronavirus pandemic appeared to be waning then. I had sent an invitation for reception to more than 700-800 persons. I booked a hotel for hosting the reception, but it's not possible now. We shall hold the wedding in a church but there won't be any reception."
Chitransh Saxena, a top executive in a corporate house, had his marriage scheduled on April 25 — a Sunday, which is the weekly lockdown day. He had also arranged reception at a hotel, which has been cancelled.
"There can be no marriage procession. There will be 25 people from the bride's side and 25 from our side. We once thought of changing the destination of marriage but everything from makeup artiste to photographer had been booked. It was not possible to change the venue of the marriage. So, we shall have a marriage in the presence of a handful of close relatives and family members," said Saxena.
Sunil Maheshwari, a businessman, also has his daughter's marriage scheduled in April. He has not cancelled the reception as yet but said that if the restrictions are not lifted by then, it will have to be cancelled.
"I believe that the marriages are destined. Whether it would be a grand affair or a low-key affair, it's all destined. But, we are keeping our fingers crossed. Maybe the situation improves by then and the restrictions are lifted but I am sure a reception can't be organised for 50 persons. There will at least be a minimum of 500 persons if the reception takes place," he said.
FacebookTwitterLinkedinemail">EMail