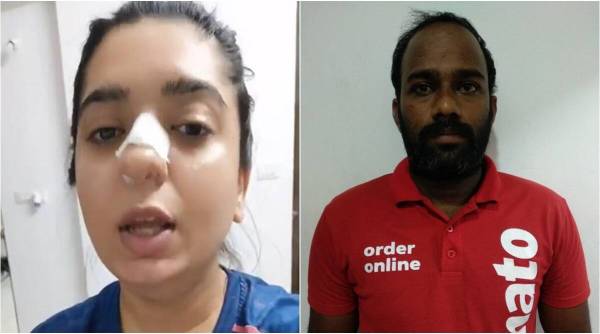 In a video shared on social media, Hitesha Chandranee (left) accused Kamaraj (right) of hitting her.
Meanwhile, denying rumours that she left the city to evade police investigation, Instagram influencer Hitesha Chandranee — who accused a Zomato employee of assaulting her while delivering her food — has said she is cooperating with the probe.
At the same time, the cybercrime department of the Bengaluru City Police has urged people to be cautious while sharing intimate content online to people they befriended on social media.
Here are a few contacts that might come in handy for you in emergency situations:
COVID-19 related queries / emergencies / clarifications: 104 (toll free); +91-80-4684-8600/6669-2000 | Find your nearest fever clinic and testing Covid-19 facility here | Home Quarantine-related queries: Telegram messenger/WhatsApp – +91 97777 77684, Voice call – 080 45451111 | BBMP control room: 080-22221188 | In case of power disruptions, contact BESCOM: 1912. If the water supply is hit in your area, contact BWSSB: 1916
Karnataka Bengaluru Coronavirus March 18 Highlights