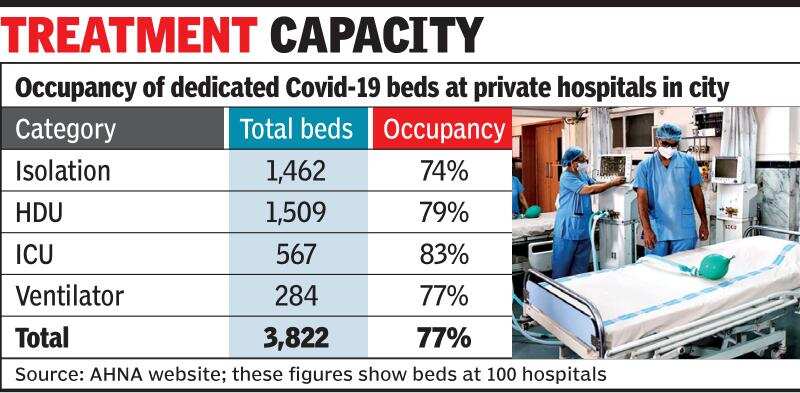 Ahmedabad: At the earlier peak of Covid-19 cases, the city's private hospitals had 3,500-plus beds from November 2020 to January 2021.With the unprecedented spike in cases, hospitals have added more than 300 beds to that tally to take the total to 3,822 as of Monday evening.
In addition, the city has about 2,500 Covid at government hospitals, giving the city over 6,300 beds for Covid-19 patients.
Dr Bharat Gadhvi, president of Ahmedabad Hospitals and Nursing Homes Association (AHNA), said new hospitals are being added and existing hospitals are expanding capacity. "At present we have about100 hospitals in all parts of the city. The majority are equipped to treat moderate to severe patients," he said.
At Medicity, which includes the 1,200-bed hospital, over 900 patients were admitted as of Monday evening. While 23% of patients at private hospitals were either on ventilators or in the ICU, in government hospitals, the figure varies from 20% to 30%.
"We have been adding 300 beds every day and over the past fortnight, some 4,000 beds have been added. We will rope-in more private hospitals only if beds at government hospitals are not vacant," said Rajiv Kumar Gupta, ACS (forest and environment) who is in-charge of the Covid-19 response in Ahmedabad.