NEW DELHI: The meteoric rise of Covid-19 cases during the second wave that overwhelmed the health infrastructure in the country is now being matched by an equally steep decline in infections. In just three weeks, the seven-day average of daily cases has fallen to half the number recorded at the peak of infection on May 8.
The average fell below 2 lakh on Saturday and stood at 1,95,183, almost exactly 50% of the peak of 3,91,263, as per TOI's Covid database collated daily from state government figures. The 50% reduction in average daily cases in the second wave has come in half the time as compared with the first wave of the pandemic in the country.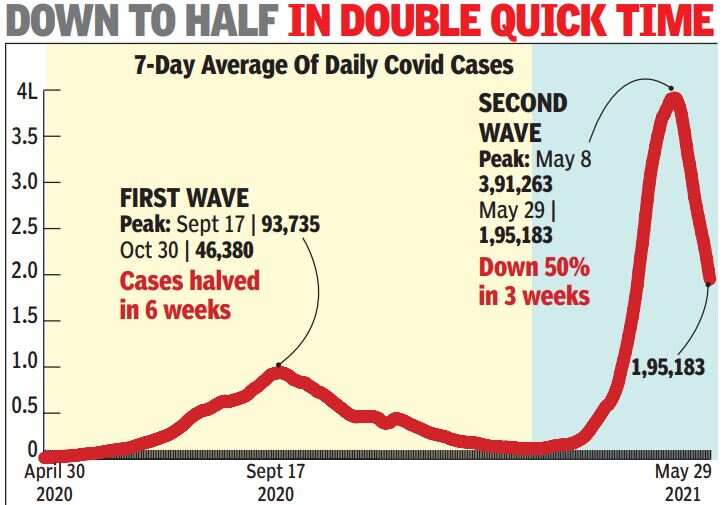 In the first wave, average daily cases had peaked at 93,735 on September 17. The number had fallen to half by October 30, six weeks later.
Coronavirus in India: Live updates
The daily death toll hasn't followed the same steep downward slope yet. The seven-day average of daily fatalities has fallen by around 18% from the peak, not counting the over 5,000 deaths from earlier months added to Maharashtra's tally during this period.
The seven-day average of daily fatalities hit a high of 4,040 on May 16. The count currently stands at 3,324. The actual daily deaths from the pandemic in the country too are yet to drop below the 3,000 mark. On Saturday, India recorded 3,080 fatalities, around the same as the previous day's toll of 3,034, again not counting the old deaths being added to Maharashtra's count almost daily.
Interestingly, the rate of decline in cases almost mirrors the earlier rise in infections during the second wave. While the daily average has fallen by half in three weeks, the count was close to half of the eventual peak three weeks prior to it. The seven-day average stood at 2,03,949 on April 17, three weeks before cases peaked in the country.
India recorded 1,65,918 fresh Covid cases on Saturday, a drop from the 1.74 lakh infections detected a day earlier. This was the third straight day of below-2-lakh daily cases in the country. Coronavirus cases continued to decline in almost all states out the northeast. Manipur and Arunachal Pradesh reported their highest count of daily cases at 1,007 and 497, respectively. Assam too recorded 5,613 fresh cases, close to its highest count of 6,573 reported on May 20.
Tamil Nadu again reported the highest cases (30,016) and deaths from the virus (486) in the country. While the daily case count in the state has started to drop after hitting a peak of 36,184 on May 21, Saturday's toll was the highest recorded in the state so far. On Friday, too, Tamil Nadu had recorded 486 deaths.