New Delhi | Jagran News Desk: Delhi Chief Minister Arvind Kejriwal on Sunday extended the lockdown in the national capital till May 31. Kejriwal said that the restrictions have been extended despite a decline in coronavirus cases as the national capital cannot afford "laxity". He said that a possible decision regarding unlock process will be taken later after analysing the situation in the city-state.
Meanwhile, Union Defence Minister Rajnath Singh held a crucial meet with Education Minister Ramesh Pokhriyal and all states and union territory (UT) ministers on Sunday to discuss conducting the CBSE class 12 board exams and other competitive exams like JEE Main and NEET. The calls to suspend or cancel the exams have increased across India after the country got it hit by the second wave of the pandemic.
Here are the highlights of the day:
16:47 pm: 1,448 new COVID-19 cases and 34 deaths reported in Puducherry today. Active cases in the UT stands at 16,851.
16:08 pm: General blockade with relaxations will remain in force till May 24. Essential services allowed. Shops are open till 12 noon. Curfew with existing practical relaxations will continue till May 31. Curfew extension will be reviewed depending on situation, says Lieutenant Governor Tamilisai Soundararajan.
15:44 pm: Centre should talk to Pfizer to explore vaccination for Class 12 students: Manish Sisodia at meeting on board exams
15:23 pm: In today's meet with CBSE, we discussed that providing safe environment for students is our priority. We will tell the SC that last year was unfortunate for students. 2nd COVID-19 wave is going on and an anticipated 3rd wave is yet to come, says Maharashtra Education Minister Varsha Gaikwad.
15:05 pm: Delhi reports 1,649 new cases, 189 deaths and 5,158 recoveries in the last 24 hours. Positivity rate at 2.42 per cent.
14:42 pm: Conducting Class 12 board exams before vaccinating students will prove to be big mistake, says Delhi Deputy Chief Minister Manish Sisodia.
14:10 pm: Defence Minister Rajnath Singh chairs high-level meeting with all states and UT Education Ministers, Education Secretaries and Chairpersons of State Examination Boards and stakeholders to discuss proposals for conduction of Class XII exams and entrance exams for professional courses.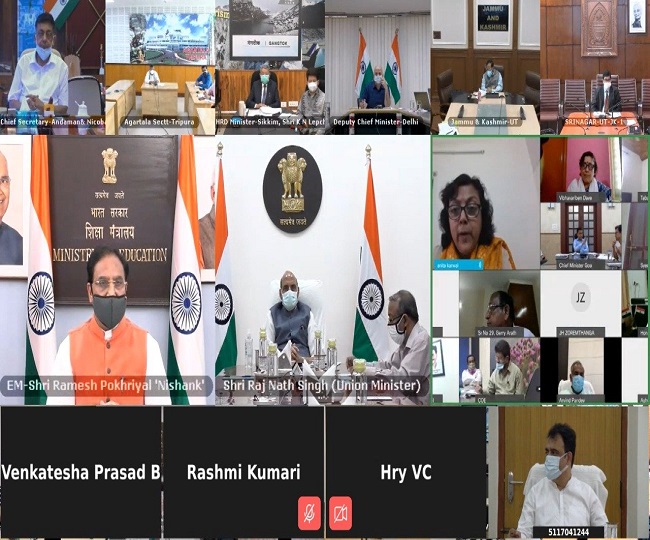 13:43 pm: COVID inoculation drive for 18-44 age group has been suspended as supply of vaccines isn't smooth. I'm hopeful that from June production capacity of vaccines will increase, then, we can run 24 hour vaccination drive in the state, says Maharashtra CM Uddhav Thackeray.
12:55 pm: WHO has supported India with 170 MT of essential medical supplies – Oxygen concentrators, testing kits, hospital beds, PPEs and auxiliary health facilities near existing hospitals. These supplies are expected to help in filling critical gaps, says WHO South-East Asia Regional Director.
12:45 pm: Former Chief Minister Kamal Nath is trying to break morale of India. Do words like 'Mera Bharat Covid', 'Indian corona' suit Congress, Kamal Nath, and Sonia Gandhi? Kamal Nath ji, you're doing cheap politics in time of crisis, says Madhya Pradesh Chief Minister Shivraj Singh Chouhan.
Isn't this statement seditious? I want to ask Sonia Gandhi if she will take any action against the leader who made such statement, he added.
12:23 pm: If COVID19 cases continue to decrease, we will begin to unlock Delhi in a phased manner from May 31, says Arvind Kejriwal.
12:07 pm: Delhi lockdown extended for another week, announces Arvind Kejriwal.
12:05 pm: Positivity rate has significantly dropped in Delhi, says Arvind Kejriwal.
12:04 pm: COVID-19 situation has vastly improved in Delhi, says Arvind Kejriwal.
12:02 pm: Delhi Chief Minister Arvind Kejriwal addresses media.
11:32 am: 4,800 new COVI19 cases recorded in UP today. Active cases at 84,800 down by almost 2,26,000 from the peak in last 20 days, says state ACS-Information Navneet Sehgal.
11:09 am: Also Read — Vishvas News to organise 'Sach Ke Sathi: Vaccine Ke Liye Haan' campaign to bust myths around COVID-19 vaccination
10:43 am: Delhi Chief Minister Arvind Kejriwal to address a press conference at 12 pm. He will likely make an annoucement over the extension of lockdown in the city-state.
10:34 am: Just In: Chhattisgarh CM Bhupesh Baghel has instructed the removal of District Collector Ranbir Sharma, who was allegedly seen slapping a person and slamming his phone on the ground for violating COVID-19 lockdown guidelines, from Surajpur immediately.
9:54 am: India reports 2,40,842 new COVID-19 cases, 3,55,102 discharges and 3,741 deaths in last 24 hours, says Health Ministry.
Total cases: 2,65,30,132
Total discharges: 2,34,25,467
Death toll: 2,99,266
Active cases: 28,05,399
Total vaccination: 19,50,04,184
9:38 am: Uttarakhand government has declared black fungus to be an epidemic, says state Health Department.
A total of 65 patients have been detected with black fungus (Mucormycosis) in Uttarakhand. Of which, 61 are admitted to AIIMS Rishikesh, it added.
9:21 am: DMs and SPs instructed to ensure the evacuation of vulnerable people to safety. CM Naveen Patnaik has directed to ensure the supply of Oxygen to hospitals within and outside the State during this difficult time, says Odisha Chief Minister's Office (CMO).
8:49 am: Also Read — Delhi lockdown to be extended for another week? Arvind Kejriwal likely to decide today
8:16 am: Just In: Brihanmumbai Municipal Corporation (BMC) has said that coronavirus vaccination centres run by it will stay shut today.
"Dear Mumbaikars. There will be no vaccination at any of the centres tomorrow. Hope you all have a wonderful Sunday. The details for Monday will be shared tomorrow by this handle and the respective wards too," the civic body tweeted yesterday.
8:07 am: 2044 children below 9 years and 8661 aged between 10-19 years contracted COVID-19 in Uttarakhand, between 1 and 20 May this year, says state Covid Control Room.
7:42 am: Union Defence Minister Rajnath Singh will hold a crucial meet with Education Minister Ramesh Pokhriyal today to discuss conducting the CBSE class 12 board exams in the country.
7:35 am: Earlier this week, Kejriwal had said that he will hold a crucial meet with Lieutenant Governor Anil Baijal following which a decision regarding extension of lockdown in Delhi would be taken.
7:30 am: Delhi Chief Minister Arvind Kejriwal will likely decide on the extension of lockdown in the national capital today.
Posted By:
Aalok Sensharma