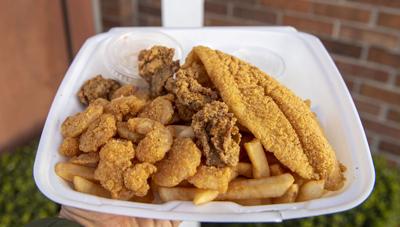 A mass vaccination event at Ashe Cultural Arts Center on Good Friday, April 2, will serve heaping platters of fried fish to all participants, free of charge. 
In order to qualify for the single-dose Johnson & Johnson shot, residents should be 18 and older, as required by federal law. Health officials are encouraging signups online  because supply of the dose is limited.
The event is sponsored by the New Orleans East Hospital's mobile unit as part of a broader effort to encourage herd immunity. 
The event will take place from 1 p.m. to 4 p.m. at 1712 Oretha Castle Haley Blvd.
Email Sarah Ravits at sravits@gambitweekly.com
---
';
if ($(content).html() == "") {
row = ";
}
return row;
};
if (typeof oResponse.next_url == 'undefined') {
// URL supplied is no good. Revert to original URL
sNextUrl = sOriginURL;
} else {
sNextUrl = scrubURL(oResponse.next_url);
}
// Manage response
if (typeof oResponse.assets != 'undefined' && oResponse.assets.length > 0) {
// Remove old more data
$("#infinite-more").remove();
// Build infinity set
$.each(oResponse.assets, function(index) {
// Display assets once origin is found
if (bFoundOrigin == true) {
if (this.id == sOriginID) {
bInfiniStop = true;
sNextUrl = null;
$("#infinite-more").remove();
} else if (bInfiniStop == false && this.id != 'beda26b0-930a-11eb-a638-07e008c82817') {
// Display asset
var sHTML = ";
if (this.content) {
if (sInfinityType == 'summary_sticky_siderail') {
if (counter == 0) {
sHTML += displayRegion(counter);
}
counter++;
sHTML += '
---
';
if (rPositions.indexOf(counter) > -1) {
sHTML += displayRegion(counter);
}
} else {
if (counter == 0) {
sHTML += displayRegion(counter);
}
counter++;
sHTML += '
' + this.content + '
';
if (bShowAd == true) {
// Show advertisement
sHTML += "
bShowAd = false;
} else {
bShowAd = true;
}
sHTML += '
---
';
if (rPositions.indexOf(counter) > -1) {
sHTML += displayRegion(counter);
}
}
}
}
} else {
if (this.id == sOriginID) {
// Origin found. Begin displaying assets
bFoundOrigin = true;
} else {
// Origin found is false. Skip asset
// Fail-safe in case origin is not present in set. This can be removed when origin is fixed.
if (bFirstRun == true) {
// Stored first id
sFirstID = this.id;
bFirstRun = false;
} else if (this.id == sFirstID) {
// We've started again. Force origin
sOriginID = sFirstID;
bFoundOrigin = true;
} // end Fail-safe
}
}
// Append infinity set to container
$("#infinite-container").append(sHTML);
});
// Include block_id on newly added list items
$('#infinite-container .infinite-item.original').each(function() {
var sHref = scrubURL($(this).find(".card-headline a").attr("href"));
// Add to image and headlines links
$(this).removeClass('original')
.find(".card-headline a, .image a")
.attr("href", sHref + "#tncms-source=infinity-scroll-summary-sticky-siderail-next");
});
// Check next URL
if (sNextUrl) {
// if origin hasn't been found yet and we hit next_url. Trigger the set to pull in again.
if (bFoundOrigin == false) {
// No origin yet. Call the populate function
populateInfinitySet(sNextUrl);
} else {
// Append sNextUrl to infinity set
$("#infinite-container").append(");
}
}
// Refresh waypoints
Waypoint.refreshAll();
if (sInfinityType == 'summary_sticky_siderail') {
__tnt.regions.stickySide.determineStick($('#sticky-right-rail'), $('#sticky-right-rail-spacer'), 'siderail');
}
} else {
// Empty asset set returned. Go back in for a real set
populateInfinitySet(sNextUrl);
}
});
}
// Infinite waypoint
var waypoint = new Waypoint({
element: document.getElementById('infinite-container'),
handler: function(direction) {
if (direction == 'down') {
if (bInfiniStop == true) {
// FINISHED. Kill the waypoint
this.destroy();
} else {
// Log waypoint hit event
__tnt.trackEvent({'category':'infinity-scroll','action':'request', 'label':'assets requested', 'value': true});
var nextURL = $('#infinite-more').data('next-url');
populateInfinitySet($('#infinite-more').data('next-url'));
}
}
},
offset: 'bottom-in-view'
});
// Rewrite URL to for preview
function scrubURL(sURL) {
if (typeof sURL != 'undefined'){
return sURL;
}
}