---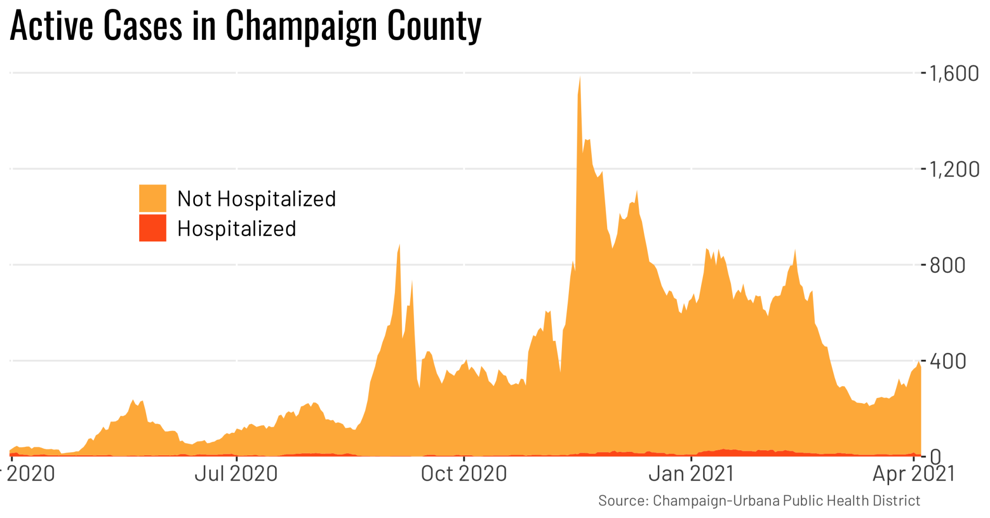 Of 12,856 new tests, 22 came back positive Monday in Champaign County, bringing its pandemic total to 19,181.
Active cases were down by 25, to 374. Hospitalizations held at 10.
Active close contacts in quarantine now total 421, down by 27 overnight.
Here's an updated rundown of county ZIP codes with active cases, according to health district data:
61820/Champaign: 106 active
61821/Champaign: 52 active
61801/Urbana: 50 active
61866/Rantoul: 34 active
61802/Urbana: 34 active
61822/Champaign: 33 active
61853/Mahomet: 25 active
61880/Tolono: 13 active
61873/St. Joseph: 8 active
61874/Savoy: 6 active
61862/Penfield: 2 active
61877/Sidney: 2 active
61878/Thomasboro: 2 active
61843/Fisher: 1 active
61847/Gifford: 1 active
61849/Homer: 1 active
60949/Ludlow: 1 active
61863/Pesotum: 1 active
61810/Allerton: 0 active
61816/Broadlands: 0 active
61840/Dewey: 0 active
61845/Foosland: 0 active
61851/Ivesdale: 0 active
61852/Longview: 0 active
61859/Ogden: 0 active
61864/Philo: 0 active
61871/Royal: 0 active
61872/Sadorus: 0 active
61875/Seymour: 0 active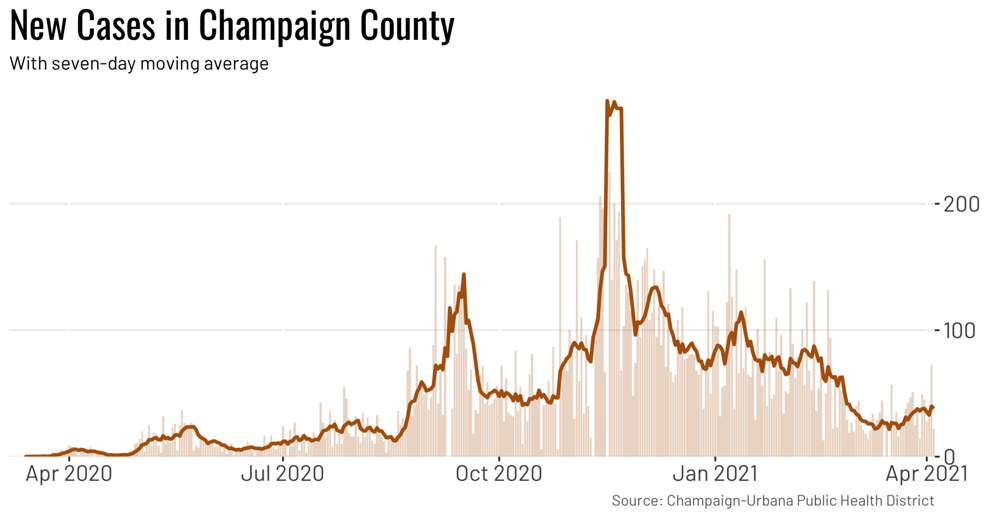 Here's a breakdown of Champaign County positive tests by age group over the course of the pandemic:
20.01 to 30: 5,729 cases
10.01 to 20: 3,982 cases
30.01 to 40: 2,336 cases
40.01 to 50: 1,992 cases
50.01 to 60: 1,652 cases
60.01 to 70: 1,266 cases
10-and-under: 1,210 cases
70.01 to 80: 546 cases
80.01 to 90: 307 cases
90.01 to 100: 152 cases
100-plus: 6 cases
Here's a breakdown of COVID deaths by age group over the course of the pandemic:
80.01 to 90: 44 deaths
70.01 to 80: 33 deaths
90.01 to 100: 27 deaths
60.01 to 70: 17 deaths
50.01 to 60: 6 deaths
40.01 to 50: 6 deaths
30.01 to 40: 3 deaths
100-and-above: 1 death
20.01 to 30: 1 death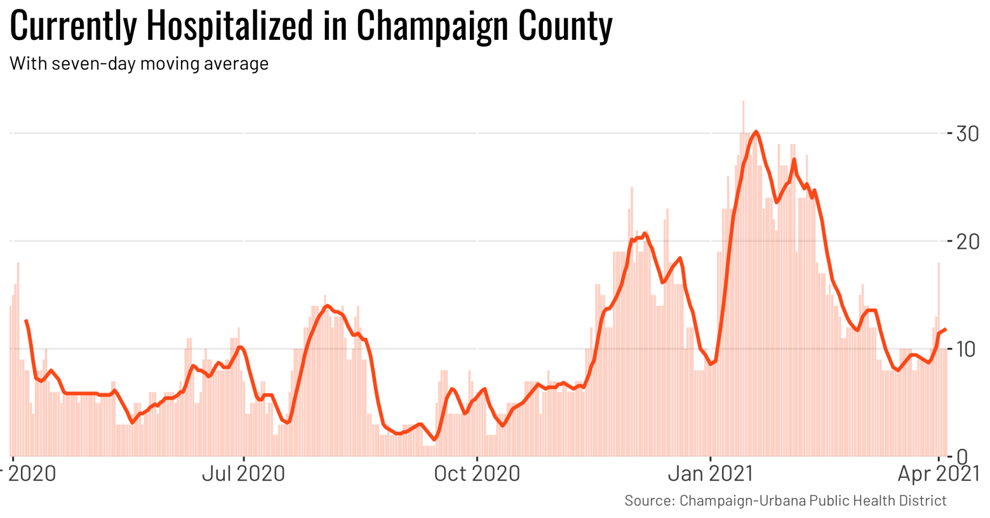 The county's pandemic totals, according to the health district:
2,086,937 tests
19,181 confirmed cases
374 active cases
18,669 recovered cases
138 fatalities
10 county residents hospitalized
25,835 close contacts quarantined
3,105 close contacts that became positive
Champaign County's seven-day positivity rate dropped for the second straight day — from 3.0 to 2.7 percent — after new totals from April 2 (585 tests, 24 cases) were added to its total.
Here's look at Saturday's seven-day rates for area counties:
Piatt County: 1.8 percent (-0.1)
Vermilion County: 1.9 percent (+0.2)
DeWitt County: 2.0 percent (-0.2)
Iroquois County: 2.2 percent (+0.1)
Douglas County: 2.3 percent (+0.3)
Ford County: 2.4 percent (+0.8)
Champaign County: 2.7 percent (-0.3)
Moultrie County: 2.8 percent (-0.1)
Note: Champaign County's rate, as calculated by the Illinois Department of Public Health, excludes the UI's daily saliva testing. The county's rate if UI testing were included: 0.6 percent, unchanged overnight.
---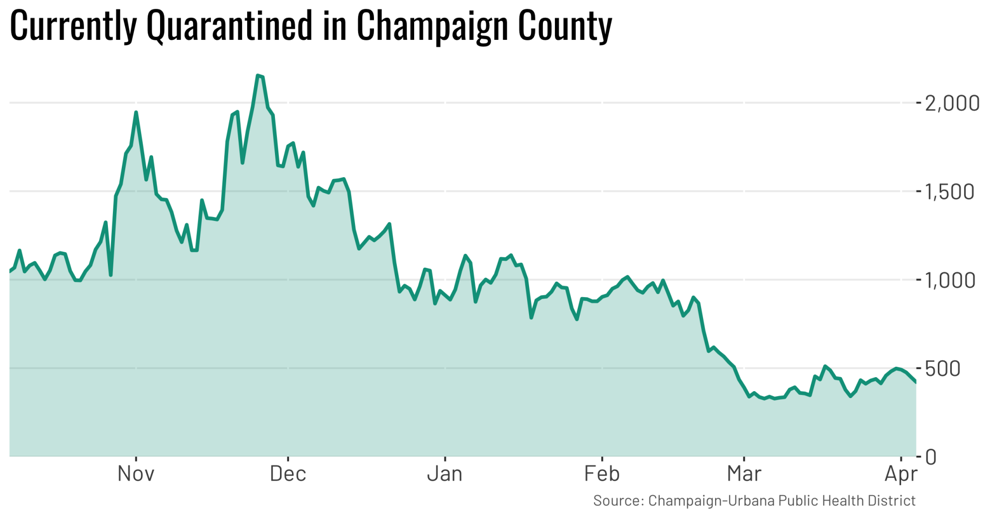 A woman in her 70s became the 123rd Vermilion County resident to lose their life to COVID-19, the local health department reported Monday.
"Our sympathies go out to her family and friends," Vermilion health Administrator Doug Toole said.
The number of confirmed cases in Vermilion County rose by 11 Monday, bringing its pandemic total to 8,863. The new cases span several days.
With eight residents released from isolation, the county also reported 247 active cases and two COVID-positive residents hospitalized.
How the new cases break down by age:
Two residents in their 70s
One in their 50s
Two in their 40s
One in their 30s
Two in their 20s
Three teens
---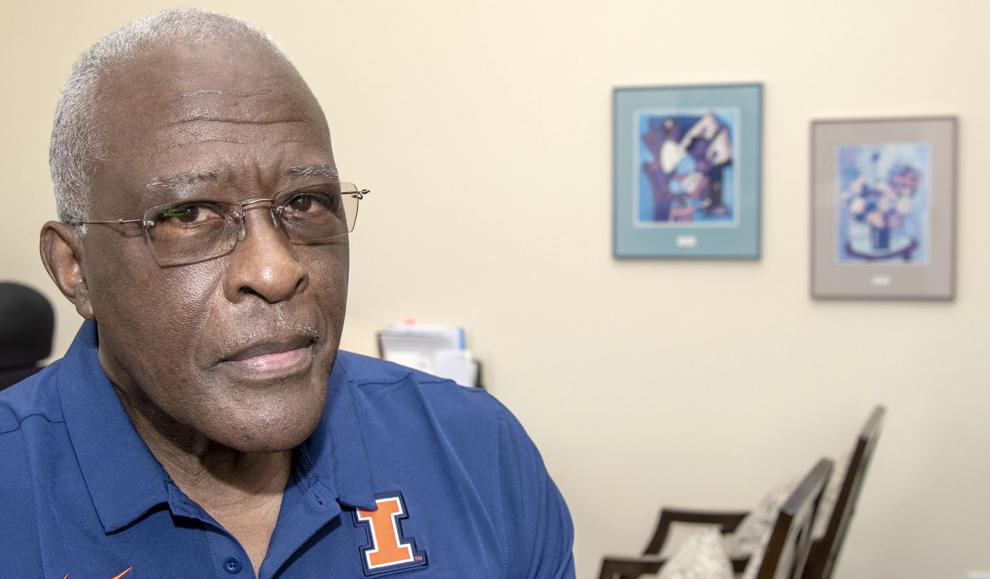 The News-Gazette's Ben Zigterman reports:
As it plans for a return to mostly in-person classes, the University of Illinois released its course catalog Monday for the fall semester.
"The vast majority of courses will be offered in-person," Chancellor Robert Jones said at a meeting Monday.
Only courses with more than 200 students will remain online or in a hybrid format, he said.
While there was an increase in cases on campus last week that Jones expressed concern about, he was pleased with Monday's announcement that everyone 16 and older in Champaign County is now eligible for the vaccine.
"The downside is that we still are facing a situation where the demand for vaccinations at this moment exceeds the supply," he said.
The UI hopes to vaccinate all its students before the semester ends in about five weeks.
Jones said there is a "real possibility of getting our students and the rest of our faculty and staff vaccinated before the end of this semester. And that's going to make a tremendous difference in terms of how we approach the fall semester and beyond."
---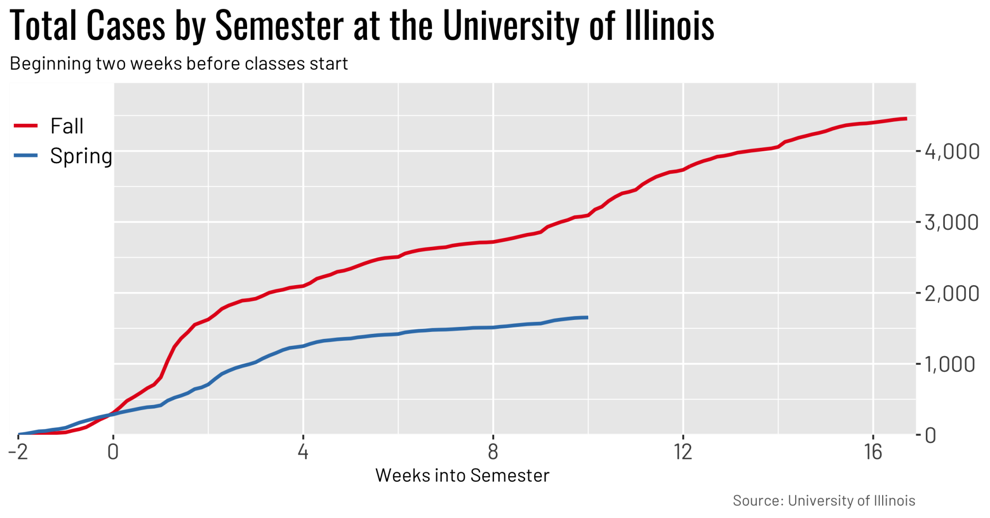 Two cases emerged from 3,221 tests Sunday on the UI campus, according to data updated Monday.
The campus' seven-day positivity rate is 0.16 percent. The total number of cases throughout the pandemic now stands at 6,450.
Over the past week, the campus has reported 85 positive tests — 48 involving undergrads, 11 faculty/staff members, six grad students and 20 classified as "other."