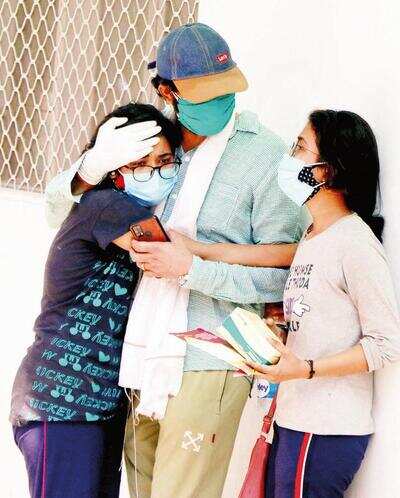 pandemic trauma
Lucknow: Dr RK Singh (72), a retired doctor from provincial medical services, had given his swab samples to a private lab after developing fever on Thursday. He developed breathlessness on Friday morning. His family started Covid medication, but as the condition deteriorated, the family tried to get him admitted to a hospital, but was denied admission as it did not had Covid test report. The family also arranged an oxygen cylinder at home but he died on Saturday morning. The test report is still awaited
Not just the crisis of critical care beds and oxygen, delay in RT-PCR test results is also proving to be fatal for people. Overwhelmed with samples due to the skyrocketing transmission rate, the government supported and private labs are taking 3-5 days to give results. People start Covid treatment presuming they are Covid-19 positive, but do not get admission in hospitals because producing a test report is mandatory. In some cases, people are starting Covid medication only to find later that they are negative for Covid-19 and have some other disease with similar symptoms.
"We even don't know whether my father died of Covid or had some other illness. Since his blood oxygen level dropped, we presume that he had Covid-19. Had the report come earlier, his life could have been saved as it would have facilitated hospital admission," said Singh's daughter Aprajita.
When Daliganj resident Sachin Singh left his home on Friday morning with his 52-year-old mother Ganga Devi gasping for breath with blood oxygen level 70 in the backseat of their car, he was optimistic about finding a hospital bed or even an oxygen support. Upon reaching KGMU Trauma Centre, Singh was referred by a doctor to go to the Covid emergency ward, but the staff there refused admission saying no oxygen supported beds were available and the patient didn't have an RT-PCR test report.
"Her Covid test was done on Monday and we were still waiting for the test results. I asked if they can't provide a bed, they can at least provide an oxygen cylinder for the time being, but nobody listened. When I raised the alarm a doctor on duty then examined her, only to tell me that she was dead. Her oxygen level had dropped to 25," he said. "Before leaving for hospital we had also called up Integrated Command Covid Centre (ICCC), but got no help," he added.
Another patient, Vatsala Maheshwai (46), who had all the symptoms of Covid died waiting for her test result from the pathology. "After calling for several hours, when we finally got connected to the ICCC, the staff told us that RT-PCR test report will be needed for hospitalisation," said her husband Rajesh Kumar. "If the patient cannot breathe and we have gotten ourselves tested but not received the report, then does it mean that the patient will not be given treatment? Or are we not allowed to receive any help from the administration in this case," he asked.
There are 24 private labs in the city authorised for Covid tests. These labs conduct over 5,000 tests through RT-PCR method daily. The three government supported labs at KGMU, SGPGIMS and RMLIMS together conduct over 25,000 RT-PCR tests per day, but since the number of samples collected daily are above 30,000, there is a huge backlog.
FacebookTwitterLinkedinemail|email">EMail