LUCKNOW: Covid-19 claimed three lives on Saturday while 273 more tested positive for the infection in the past 24 hours. With this, the overall caseload in the city since the outbreak in March last year is over 84,000 and casualties over 1,200.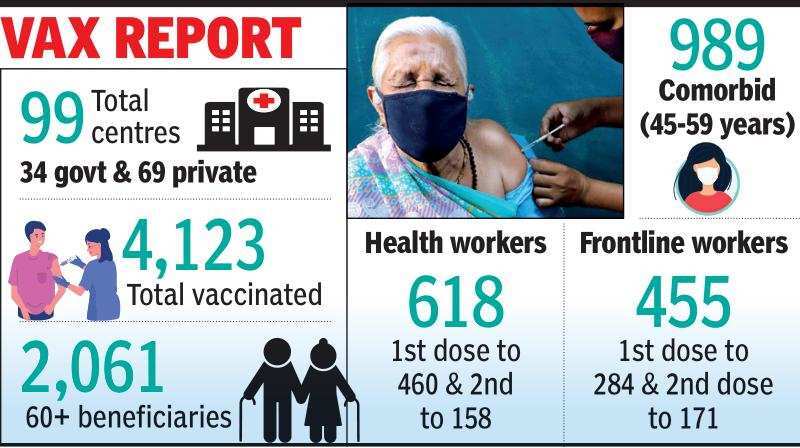 The deceased persons included Pramod Srivastava (48), member of the UP State Accredited Journalist Committee 2021, elections for which were held on March 21.
Four days later, he tested positive and was admitted to KGMU on March 25 in a serious condition. Doctors said he died due to respiratory failure.
At least six journalists who took part in the elections have also tested positive so far. One of them was admitted to SGPGIMS late Saturday evening.
Another death that took place at KGMU on Saturday was of an under treatment patient, a 57-year-old man from Mahanagar, who was admitted on March 6 after testing positive. He also had chronic liver disease and died due to respiratory failure.
The city has become a "hotspot" in the state with a steady rise in the number of cases and deaths in the past few days. Out of four Covid-19 deaths in UP on Saturday, three took place in Lucknow.
Similarly, 25% of the total new infections were in the state capital. In remaining districts, the numbers were below 50.
Indiranagar recorded highest 25 new cases followed by Hazratganj 20, Gomtinagar 15, Mahanagar 14, Chowk 12, Aliganj, Manaknagar and Sushant Golf City 10 each and Aashiana, Alambagh and Talkatora eight each.
At least 54 patients recovered on Saturday. As new infections are consecutively higher than recoveries for past several days, the number of patients with active infection status has mounted to 1,856. Of these, 1,447 are in home quarantine.
The caseload now stands at 84,139. Of these, 81,081 have recovered, while 1,202 could not survive.