LUCKNOW: The state government on Sunday announced lifting of partial Corona curfew in four more districts, including PM Narendra Modi's parliamentary constituency of Varanasi, Noida, Ghaziabad and Muzzaffarnagar from Monday after the Covid count dipped below 600 in these districts. The decision was taken at a meeting presided by chief minister Yogi Adityanath.
With this, curbs have been lifted in 71 districts, enabling economic activity between 7 am and 7 pm. However, night and weekend curfew from Friday evening till Monday morning will be in place across the state. Uttar Pradesh kicked off easing curfew in 67 districts from June 1 after the gradual flattening of the corona curve.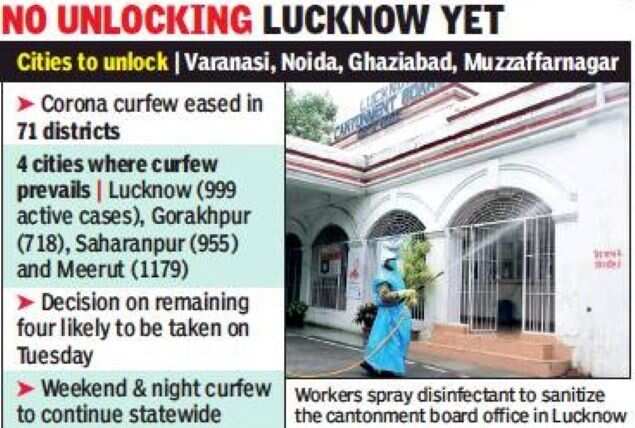 Curfew, however, will continue in Lucknow which clocked 999 active cases, Gorakhpur 718 cases, Saharanpur 955 cases and Meerut 1,179 active cases. Any decision on lifting curfew in these districts would be taken on Tuesday, said additional chief secretary, information, Navneet Sehgal. He said, the state government was keeping vigil on these districts, which still have more than 600 active cases.
The chief minister also pitched for raising number of vaccinations from the proposed 1crore in June to 3crore in July. An additional 3lakh vaccinators would be roped in, besides providing training to nursing students or seeking other options, he said. "The vaccination process needs to be expedited given the large population of UP," Yogi said, underscoring the fact that the state had no shortage of vaccines amid Centre's plans to provide more vaccine options.
The CM also directed senior doctors, including CMOs, deputy CMOs and additional CMOs to open outpatient departments. He said, government hospitals, community and primary health centres should start OPD services on a rotational basis. He also pressed for deployment of doctors for medical service only, keeping them away from administrative and managerial duties. Yogi said, people should be encouraged to go in for tele-consultation and e-sanjeevani portal.
Maintaining that rural areas have largely remained unaffected by the pandemic, Yogi directed officials to begin developmental activity by engaging MNREGS workers. The CM is also scheduled to flag off the programme of providing loans to local units from banks in the coming week.